C of N Biography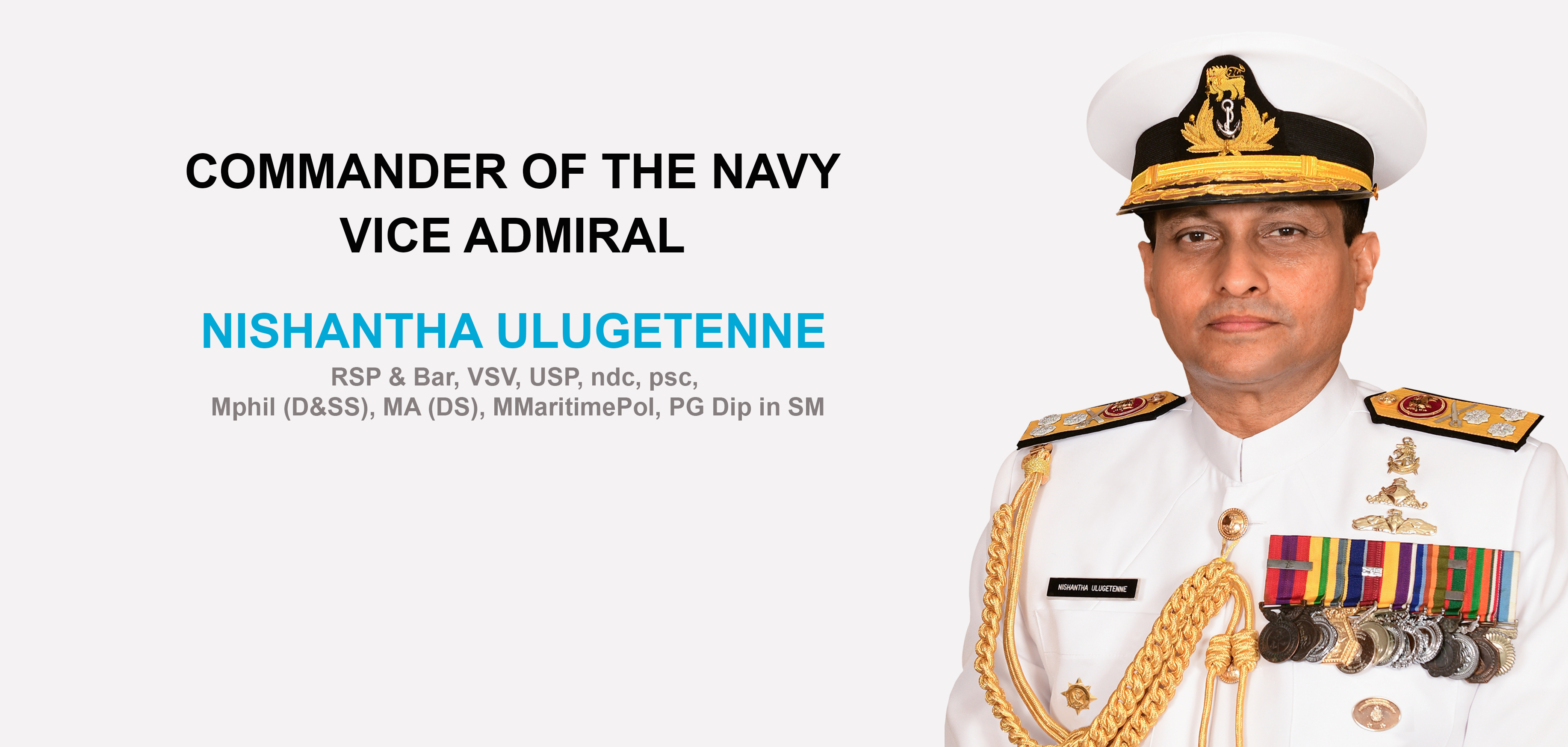 His Excellency Gotabaya Rajapaksa the President and Commander-in- Chief of Armed Forces of Democratic Socialist Republic of Sri Lanka appointed Vice Admiral Nishantha Ulugetenne as the 24th Commander of the Sri Lanka Navy on 15thJuly 2020 after being elevated him to the rank of 3-star Admiral.
Vice Admiral Nishantha Ulugetenne is a proud product of the Royal College, Colombo where his leadership traits were first recognized at his young age as a school prefect. He was also an upbeat member of the Cadet Platoon that went on to win the Hermann Loos trophy twice. He joined the Sri Lanka Navy as an Officer Cadet of the 13th Intake in 1985 and underwent basic naval training at the Naval and Maritime Academy, Trincomalee. Upon successful completion of training, he was commissioned as a Sub Lieutenant on 07th January 1987. After being steadily elevated to subsequent ranks in the Navy over the years, he was promoted to the rank of Rear Admiral on 01st June 2015.
Vice Admiral Nishantha Ulugetenne specialized in the fields of Gunnery and Missiles and was a key member of the pioneering team that introduced missiles to the Navy Fleet. He also held a range of sea as well as shore appointments during his illustrious career spanning over 35 years. The senior officer served aboard many Fast Attack Craft and had commanded the prestigious 4th Fast Attack Craft Flotilla, the teeth arm of the Sri Lanka Navy fleet, at the height of the looming terrorist activities. He also took pride in commanding SLNS Nandimithra in 2009, aboard which he was privileged to be its first Weapons Officer and Executive Officer of the same ship earlier.
Apart from that, Vice Admiral Ulugetenne held office as the Director Naval Intelligence for more than three consecutive years just after the humanitarian operation, during which human smuggling had been brought to a substantial halt and the influx of narcotics was also curbed in an effective manner. His other shore assignments include Director Naval Weapons, Deputy Area Commander (North), Director General (Services), and Commander Southern Naval Area, Commander Western Naval Area, Commandant Volunteer Naval Force and Deputy Chief of Staff prior being appointed as Chief of Staff of Sri Lanka Navy on 04th May 2019.
The senior officer holds three Master Degrees from the Kings College London, University of Wollongong, Australia and University of Madras, India. He attended the Advance Command & Staff Course at the Joint Service Command and Staff College, United Kingdom where he was conferred with 'psc' qualification and Master of Arts in Defense Studies. He also received his Master Degree in Maritime Policy from the University of Wollongong upon completion of residential course of studies at the university. Further, he is a distinguished alumnus of the National Defense College, India where he graduated with Master of Philosophy in Defense & Strategic Studies. He had also studied at length on 'Comprehensive Security Measures to Terrorism' at Asia- Pacific Center for Security Studies (APCSS), Hawaii
His Excellency the President has awarded Vice Admiral Ulugetenne with Rana Sura Padakkama (RSP) for his act of bravery in the face of enemy twice and Vishista Seva Vibhushanaya (VSV) and Uththama Seva Padakkama (USP) for his exemplary conduct exhibited in his distinguished naval career. Vice Admiral Ulugetenne has also been decorated with the Deshaputhra Medal for sustaining injuries while on active duty and draped with a bunch of service medals in recognition of his contribution to the motherland. He has also contributed immensely to the Navy by leading the young blooded naval athletes, as the Chairman of athletics pool.
Vice Admiral Nishantha Ulugetenne is happily married to Mrs. Chandima and they are blessed with an 18 year old daughter, Samadhini.