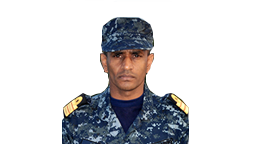 COMMANDER WMUI WIJERATHNA RSP, BA (Lanka), PG Dip (Criminology)
Commander WMUI Wijerathna RSP, BA (Lanka), PG Dip (Criminology) is presently performing duties as a Training Commander in 1st Marine Battalion SLNS Vidura . He joined Sri Lanka Navy as an Acting Sub Lieutenant in 1998 and undergone his basic training at Naval and Maritime Academy. 
He specialized in Marksmanship and successfully completed his Basic Marksmanship course at (MSTS) Dhiyathalawa. And also he is a qualified Marksmanship Coacher. And he has under gone Battalion training course and Basic course for NPM Officer On Laws Of The Armed Conflict Course at Poonewa, Night Training Package Course at STF Training School, United Nations Peace Support Operation Instructor Course at Institute of Peace Support Operations Training Sri Lanka (IPSOTSL), MARFOPAC Course at SLNS Shiksha and Finally He has completed Basic Marine Qualifying Course at SLNS Barana.   He has followed Young Officer Course Pakistan in 2004 and Junior Command Course in 2011 at the Army War College, Mahow, India.   
He played immense role during the Ealm war and awarded ' Rana Sura Medal' for collective gallantry  in the face of the enemy.
During his long career in the Navy, he held appointments at Naval Headquarters as Staff officer Welfare Land and Housing projects design, Senior Staff Officer on the staff of Director Marine and held appointments as Company commander, and Security officer in various establishments, Commanding Officer of 1st Marine Battalion in year 2017 at SLNS Vidura.
He is married to Mrs RPSP Jayalath and blessed with two sons.